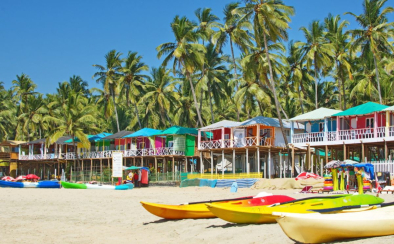 Is it good to visit Goa in the monsoon ?

Is it good to visit Goa in the monsoon?
#goadays #wowidays
Goa is popular for its beaches and tourists from all over the world travel to Goa during the peak season which starts from October and goes up till March but Goa is much more than its peak season only.
Goa trip in monsoon comes with its perks and experiences.
Goa lies in the Konkon region on the southwest coast of India and the months of June, July and August are monsoon times in Goa with maximum rains in July and August.
Consistent and intermittent spells of brief drizzle, heavy rain, moderate rain, and thundershowers bring Goa back to life after the hot and humid summers that last from April to June and the temperature comes down drastically.
So, Is it good to visit Goa in the monsoon?
Here are some attractive reasons to plan a visit during the monsoon season in Goa.
1. Add more stars
Yes, the hotel and resort prices fall drastically during the monsoon season and the same is the case with flight tickets. So if you had budgeted for a 2 star, you can get a 4 star at the same cost, and if you had budgeted for a 3 star you can get a 5 star at the same cost. Everything comes at nearly 50% or more discount so you get to enjoy the luxuries with easy affordability. Monsoon season in Goa also means less number of guests in the hotels and resorts and you get more personal attention and better service and may get lucky with free upgrades. So expect 2-3 times the value for your money during your goa trip in monsoon.
2. Paddy fields and Waterfalls
The lakes, the ponds, and the waterfalls come alive and as you will drive along the long stretches of paddy fields, you will be mesmerized by the views. The Dudhsagar waterfalls, one of the tallest waterfalls in India comes to full life and vigor and one can hear its might from a very far distance. If you are considering a little adventure, even camping can be explored here during the monsoon time. It's a perfect time to enjoy the serenity with greenery around. By far, Dudhsagar falls top of the list of places to visit Goa in the monsoon time.
3. Less hustle, bustle, and traffic
During the peak season, there is usually a lot of traffic on the roads as it gets very crowded but that is not the case during the monsoon season. Monsoon season in Goa means you do not have to get stuck in traffic and can travel around with ease as the roads are mostly empty. During the monsoon season, the overall atmosphere is very relaxed and easy-paced. The beaches are also very quiet and you can have a very calm and untroubled time during the monsoon season.
4. Great time for nature-filled activities
Nature comes alive and is at its best during the monsoon time and you can enjoy walking and trekking over the western ghat mountains. There are also many wildlife sanctuaries that you can explore during these places to visit Goa in the monsoon time.
5. The nightlife is still on
If after a quiet and relaxed day, you wish to go out and enjoy some nightlife there will still be plenty of options available even during the monsoon season. Many nightclubs operate during the monsoon season and host many rain dances and fun parties. You may also get an opportunity to enjoy a few beach shack parties also.
6. Monsoon season in Goa is festival time
The happy-go-lucky and merry-making Goans celebrate their festivals with a lot of zest and zeal and monsoon time is no exception. If you happen to travel in June then you can participate in the Sao Joao festival which celebrates the onset of monsoons and also in the memory of St. John the baptist. Towards the end of July is the mud fight festival called Chikal Kalo. And for the sweet tooth, there is the festival called Patolleanhem which coincides with Independence day on August 15th.
7. White water rafting
With continuous rains, the water flow surges and it makes white water rafting even more thrilling and adventurous it is one of the favorite activities of many tourists who take a
Goa trip in monsoon
.
8. Spice plantations
Plants bloom during monsoons and a visit to a spice plantation will be worth your time. Learn about the different spices including ginger, lemon, cardamom, pepper, and betel nut and you can also enjoy authentic Goanese cuisine when you take these half-day tours.
9. Permanent Shacks are open
Don't worry you will not miss out on the beachside shack experience during the monsoon season in Goa as some of the very popular permanent shacks operate throughout the year and many have live singing entertainment too to top it all you can enjoy the local Goanese and kokanee cuisine.
10. Basilica of Bom Jesus Church
Goa trip in monsoon or for that matter any time of the year is incomplete without a visit to the Basilica of Bom Jesus church which is recognized by UNESCO as a World Heritage site and hold the mortal remains of St. Francis Xavier.
On the flip side
Be prepared that it may rain continuously for hours and if you are not a rain person it may put you off during monsoon.
You will not be able to enjoy some of the popular water sports activities that do not operate due to high tides and currents.
You may also experience power outages on heavy rain days but most star-rated places will have a backup.
All in all, the answer to the question " Is it good to visit Goa in the monsoon?" is the positive and a Goa trip in the monsoon has everything to make it a memorable #goadays experience that will stay with you for a lifetime places to visit Goa in the monsoon time.
We welcome to reach out to the #Wowidays team to plan your #goadays this monsoon.