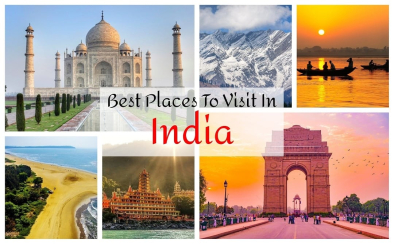 Famous tourist places to visit in India
Famous tourist places to visit in India
The best way to find yourself is to lose yourself to the most beautiful places in India, to the best tourist places in India. India is a great country with immense positive energy and many experiences of life with a great level of enriching profoundness and joy. Here we present the famous tourist places to visit in India, each offering its unique form of Indian culture, landscape, people and memorable experiences for all age groups for different times of the year. This list includes the best tourist places in India from North, East, West and South.
Goa
Goa is amongst the top and most celebrated tourist destinations in India. Youthful and Vibrant! Quaint with solitude! Famous for its coastline with many clean and inviting beaches, Goa was once a Portuguese colony. Along with the beaches, there are lots of water sport activities, churches, spice plantations and various other activities for all age groups. The main economic activity of Goa is tourism, so the people are very welcoming and tourists fill Goa throughout the year. Not just Indians but travellers from all over the world come to Goa for their share of sun, sand and waves. And this makes it amongst the best tourist places in India. Goa is also very popular for its beachside shacks and throbbing nightlife.
When to visit: Year round destination with each season having its own charm
How to reach
Fly: The major airport in Goa is Dabolim International Airport
Train: The main railway heads of Goa are Madgaon Railway Station and Thivim Railway Station
Road: Margao,Kadamba and Mapusa Bus Terminal are very well connected with Inter-state Road transportation services.
Waterways: There are ferry and cruise connections along the Arabian sea route from Mumbai and Kerala
Famous Beaches: Calangute, Anjuna, Vagator, Colva, & Benaulim,
Other attractions: Fort Aguada, Basilica of Bom Jesus, Dudhsagar Waterfalls, St Xavier's Church, Deltin Royale Casino and clubs like Cafe Mambos and Titos
Water Sports at Calangute and Baga beach include Scuba Diving, White Water Rafting, Kneeboarding, Kayaking, Wakeboarding and Windsurfing
Famous Markets: Panjim Market, Anjuna Flea Market, Saturday Market, Mackie's Night Bazaar
Jaisalmer (Rajasthan)
On the periphery of the Great Thar desert is the golden city of Jaisalmer, one of the most beautiful places in India. It is also known as the Golden city because it exudes the charm of golden sand dunes with the warmth of the ever hospitable, colourful, culturally rich people of Rajasthan. You can enjoy your time indulging in exciting activities such as dune bashing, camel safari, and desert camping.
When to visit: Between October to March
How to reach: Fly: Jaisalmer airport is connected through flights from Delhi & Mumbai during Winters. Alternatively, Jodhpur Airport is the nearest airport from Jaisalmer.
Train: Jaisalmer Railway station has train connections from many cities including Delhi, Mumbai and other cities of Rajasthan like Jodhpur, Jaipur & Udaipur.
Roadways: Very well developed roads connect you to Jaisalmer.
Attractions: Jaisalmer Fort, Sam Sand Dunes, and Desert Cultural Centre, Bada Bagh, Folklore Museum
Varanasi
Located along the banks of the holy river Ganga, Varanasi (also known as Kashi or Benaras) is one of the oldest inhabited cities in the world. Also known as the city of Lord Shiva (the god of creation and destruction), people of Hindu faith come to perform the final rituals of the dead and immerse their ashes so they can be liberated from the cycle of reincarnation. A wash in the river is believed to cleanse away all the sins. The fascination and the mysticism of this city makes it one of the top tourist destinations in India.
When to visit: Between October to February
How to reach
Fly: Lal Bahadur Shastri Airport of Varanasi is well-connected to Delhi and Mumbai and from here to all parts of the country
Take the train: Varanasi Junction and Kashi Railway Station and are the two major railheads of the city.
Roadways: Private and state run buses regularly ply between Varanasi and the nearby cities.
Attractions: Dashashwamedh Ghat, Manmandir Ghat, Assi Ghat, Manikarnika Ghat, Kashi Vishwanath Temple,and Durga Temple
Leh-Ladhak
One of the top tourist destinations in India - Ladhak is the land of high passes and boasts a panorama that will stay with you for life. One of the reasons why Ladakh is amongst the famous tourist places is that it is one of the rare places in the world where the landscape changes drastically and dramatically within a short distance. You will be astonished to see the snow, mountains, cold desert, lakes and alpine meadows at a very short distance from each other. Ladakh is one the most beautiful places in India for both nature lovers as well as adventurers.
When to visit: April to mid-May and mid-September to mid-October
How to reach
Fly: Kushok Bakula Rimpochee Airport in Leh has direct and indirect flight connections to other cities of India
Railways: The nearest railway station to Leh is Jammu Tawi Railway Station which is approximately 700 km. One will have to take a bus or private cab to reach Leh from there.
Roadways: Roadways is the most popular means of reaching Ladhak. It is a scenic ride and this trip is a dream trip for lots of bikers also.
Attractions: Pangong Tso Lake, Khardung-La Pass, Zanskar Valley, Spituk Gompa, and Hemis National Park
Coorg
Rise and shine to the smell of dreamy coffee, and appreciate the picturesque beauty of hills and streams covered with mesmerising mist. Aptly referred to as the Scotland of India, Coorg will charm you by living up to its name with an alluring union of history, adventure, luxury and mouth-watering cuisine. Situated along the western ghats, Coorg is one of the best places to travel in India and the most famous coffee-producing hill station offering awe striking scenery and opulence.
When to visit: October to March
How to reach
Fly: Mangalore is the nearest domestic airport from Coorg. It is 156 km away. The other option is Kempegowda International Airport in Bengaluru which is 285 kilometres away. From here, private cabs and buses can be availed.
Railways: The closest railway junction is Mysore Junction which is 106 km away and is well connected with other parts of India.
Roadways: One will need to take the road route from the nearest railway station or airport else one can plan a road trip. The drive is very scenic and beautiful.
Attractions: Nagarhole National Park, Abbey Falls, Nalknad Palace, Barapole River, Brahmagiri Peak, Iruppu Falls, Namdroling Monastery, Microlight flight at Chelavara, ziplining, and angling in River Kaveri
Kerala
Kerala celebrates distinctive geographical features and that has made it one of the most beautiful tourist places in India. Kerala is located on the south-western tip of India and is popularly referred to as 'God's Own Country'. What makes Kerala one of the best places to travel in India is its even tempered climate, calm composed beaches, soothing stretches of backwaters, abundant hill stations and fascinating wildlife. Kerala is definitely one of the most famous tourist places in India.
When to visit: November to January and June to August
How to reach
Fly: Kerala has three major airports and all are very well connected with other parts of India. The three airports are – Calicut International Airport, Cochin International Airport, and Trivandrum International Airport. Kerala is also very well connected with overseas flights.
Railways: Kerala is very well connected through railways with its 3 major railheads being Thiruvananthapuram Central railway station, Ernakulam Junction railway station, and Kollam Junction railway station. One can easily travel by train from any part of India
Top Attractions: Backwaters, Alappuzha Beach, Kumarakom bird sanctuary, Krishnapuram Palace, Marari Beach, Punnamada Lake, Pathiramanal, Revi Karunakaran Museum and Sri Krishna Temple in Ambalappuzha
Kutch
A land of culture, colour and breathtaking topography,Kutch with its unsophisticated beauty is nothing less than an illustrated dreamworld. Kutch is the place where the time has left its impression in many colourful and myriad forms. The Great Rann of Kutch gets submerged in water during the rainy season and becomes totally dry during the winter season. Kutch history goes back to Indus valley civilization and its art and architecture is a living testimony of its dramatic and inspiring past. Kutch is one of the best places to travel in India.
When to visit: November to February
How to reach
Fly: Bhuj Airport is 69 km away from Kutch and is the nearest air connection.
Railways: Bhuj Railway Station is 50 km away from Kutch and is the nearest rail connection
Attractions: Mandvi Beach, White Desert, Aina Mahal, Prag Mahal, Kalo Dungar, Kutch Museum, Archaeological Museum and more
Assam
The ideal combination of a beautiful peaceful fairyland merged with a delightful cultural legacy stays snuggled on the banks of the exuberant Brahmaputra, India's longest river. An endearing bird shaped Indian state with religious places, hill stations, abundant tea gardens and cascading waterfalls. Awesome Assam is one of the best places to travel in India. A trip to Assam is a trip to one of the most beautiful places in India.
When to visit: October to April
How to reach
Fly: Guwahati is the capital of Assam and Lokpriya Gopinath Bordoloi International airport is directly or indirectly connected to all major airports of India.
Railways: Guwahati railway station is very well connected through Rajdhani and other express trains. Roadways: The state of Assam has a good network of roads and you can travel to various destinations by hiring tourist cars.
Attractions: Kamakhya Temple, Srimanta Sankardev Kalakshetra, Assam State Museum, Kaziranga National Park, Manas National Park and more.