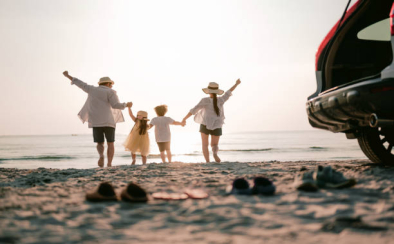 Best place for family vacation
Nothing beats the excitment and adrenaline of a family holiday trip but finding the right destination can be a little tricky. A best place for family vacation is the one which offers varied experiences so every one can have their high moments and stories to take back. To take you a step ahead, we have curated a list of 5 Top destinations spread across continents, each offering a unique experience but all offering a gamut for perfect family moments and everlasting memories.
1. 135 Million years old rainforest (Older than the Amazon)
Many years ago, Tourism Australia's uncanny tag line was "Where the hell are you?" which is true to its friendly and adventurous nature. Zoom into Australia towards the North Eastern coastal end of the North Eastern state of Queensland, a Unesco world heritage area older than the Amazon is a tropical rainforest and a visit here will be nothing short to an eye opener to a biodiverse world that has been existing for over 135 million years.
A family holiday trip to Daintree Rainforest will bring you face to face with some of the rare and incredible species including the blue faced southern crossway bird (often described as a modern day dinasour), the lumholtz tree Kangaroo and the world's largest living Estuarine Crocodile.
Various family activities include morning sea kayak, horse ride meandering the paddocks, wildlife watch points, cruises, fishing tours, trekking trails, visit to the Daintree discovery centre, rainforest circuit walks and enjoying the delicious triple scoop daintree icecream.
A wide range of International family tour packages are available from modest to luxury including campervans along the beach front.
2. World's favorite tourism destination - Bali
A province in the Sunda Islands, part of the Malay archipelago and amongst the 17000 islands that make up Indonesia, Bali is a top choice for a family holiday trip and has won many awards and accolades such as "World's Favorite Tourism Destination" among many others.
From enjoying a sunrise trek to the edge of an active volcano and witnessing majestic views to exploring the friendly animal parks or rafting, canyoning or biking along with relaxed time at the beach and experiencing the deep culture and heritage of Bali and learning about the life of the locals, Bali is so familyfull and friendly a destination with something exciting for all family members.
Family tour packages to Bali mostly come with a private car and driver.
3. Whitefish, Montana - a quaint resort town
Close to the Canadian border, the quaint relaxed resort town of Whitefish in Montana state of the USA is a year round destination - a skiing capital in winters and boating and lake paradise in summers and has a lot to offer on a International tour packages for family holiday trip.
The biggest attraction is the 3000 acre Whitefish Mountain resort where you can experience a chairlift over the snowy peaks below and enjoy skiing (even night ski options are available) and even first timers can get trained and have a bit of fun. The summer activies include the zipline, mountain biking, hiking and alpine slides.
With a total population of just 6000, tourism is key for the locals who are friendly and the place also has a bit of out of the Hollywood Western Classic movie feel. Water activities are plenty including boating, kayaking and flyboarding and winery tours are also available.
For the best International family tour packages, it is best to plan much in advance.
4. An Urban Extravaganza - Dubai
Best place for family vacation your kids will not want to go back home from this International tour packages for family holiday trip. Dubai can easily be called the city of the guests coz more than 95% people are not locals, so making it the most cosmopolition and modern cities in the world. Filled with skyscrapers including the worlds tallest Burj Al Khalifa, Dubai is an urban marvel, a dream turned into reality, financial crossroads of the east and west and this miraculous city will spoil you for choices with its never ending entertainment list for every family member.
Try to say in one breath - Legoland, Aquarium & Underwater Zoo, Dolphinarium, Dubai Theme Park, Wild Wadi Water Park, Ski Dubai, Bollywood Park Dubai, Burj Khalifa, Ferrari World, Dubai Malls, Jumeirah Beach Park, Dubai Fountain, Desert Safari, Global Village, World of Adventures, Kidzania and more… Dubai is a fun packed holiday destination for a family without a single dull moment.
5. Heart Warming Cambodia
Running along the Gulf of Thailand coastline, the real treasure of Cambodia is its people, history and heritage which will win your heart over again and again.
The most iconic visit in this family holiday trip will be Angkor Wat - the largest religious monument in the world was built in the 12th century and is spread over 400 acres and it took 35 years, 300000 labourers and 6000 elephants without any machinery… Phew !! A rare sight on our planet.
There are many other cultural and religious monuments to explore and to relax and unwind, Cambodia also has many interesting beaches including the most famous Preah Sihanouk and Koh Rong. Kids activities and experiences include ziplining in the jungle, freeing the bears at Phnom Tamao Wildlife Park or taking the Bamboo train to Battambang.
Along with these best places for family vacation, Wowidays offers a multitude of International tour packages for family, please feel free to connect and our experts will be happy to put together a perfect family holiday trip.